Welcome to Pecora 2017 Schedule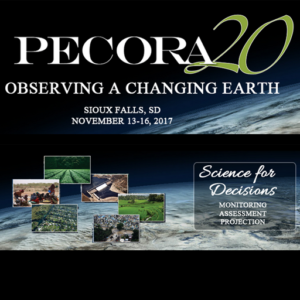 About Pecora 20: With emphasis on recent significant developments in remote sensing, the theme of Pecora 20 is "Observing a Changing Earth: Science for Decisions…Monitoring, Assessment, and Projection." This conference will offer a program on applications of satellite and other Earth observations to monitor, assess, and perform projections of future land and water resources, as well as big data and other analytical technologies to improve decision making utilizing satellite data.
The Pecora Symposium series was established by the USGS and NASA in the 1970s as a forum to: 1) foster the exchange of scientific information and results derived from applications of Earth observing data to a broad range of land-based resources; and 2) discuss ideas, policies, and strategies concerning land remote sensing.
You can visit the Pecora 20 Website here.
Pecora 20 Co-Chairs:
Jesslyn Brown, USGS           jfbrown@usgs.gov
Martha Anderson, USDA      Martha.Anderson@ars.usda.gov
Please direct all workshop questions to:
Russell G. Congalton, Workshop Coordinator
603 862-4644
ASPRS Main Office
425 Barlow Place, Suite 210, Bethesda, Maryland 20814-2160 Tel +1 (301) 493-0290